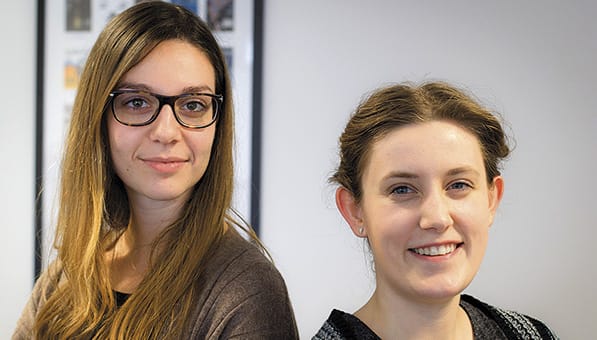 Learning from experience
For the past five weeks, Isobel Urwin and Alessia Gambarotto have been doing a work placement at Connect's Edinburgh office. Their goal was to gain some practical experience in the publishing world, and as part of this, they collaborated to create a database to be used for market research, and spent some time researching and writing a feature. During their time at Connect, both Alessia and Isobel made the most of the opportunity to immerse themselves in the contract publishing environment, and have inspiring conversations with members of the Connect team.
Alessia is Italian and is currently studying MSc Magazine Publishing at Napier University in Edinburgh. Keen on learning as much as possible and acquiring a more practical approach to the publishing world, she applied to the placement at Connect. Here she had a closer view of how a modern creative communication company works and felt part of the team. She's been involved in various aspect of the publishing process and found it useful and gratifying to apply what she has learnt in class in a real working environment. Collaborating with Isobel has been both funny and productive, and the whole experience made her discover how closely all the departments within Connect co-operate to run a successful business.
Isobel is also an MSc Publishing student from a literature background, and chose to do the course in hope of developing more practical skills. The placement at Connect has really allowed her to understand how agencies like Connect work, and all the stages involved in producing publications. Her favourite part of the experience? Creating a feature, in collaboration with Alessia, and seeing it go through the process from research to finalising layout and design. She says: "The best part was hearing from so many people, and hearing about the variety of roles in agencies like this."
Though she is still unsure what she plans to do in the future, her time with Connect has made her seriously consider working in a similar field – as the variety of working on different projects with different of clients appeals to her.
For both students, working with Connect has been a very useful experience. It helped them understand which skills they need to develop in order to become more employable. In the future, Alessia hopes to become a sub editor of a magazine, while Isobel aspires to have a career in fiction book marketing. Isobel and Alessia have both enjoyed the opportunity to speak to industry professionals, and gain insight into the workplace, and are very grateful to Connect for allowing them this opportunity.