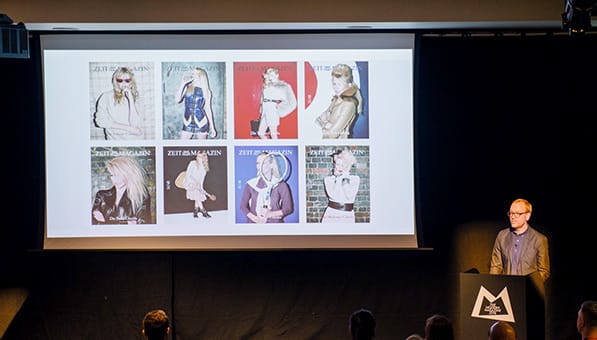 Modern Magazine 2016
I regularly make the pilgrimage to London to spend the day at Central Saint Martins, among like-minded magazine people. The conference leans towards the independent scene, especially from a design point of view, and rarely covers commercial activities, but there are always things to be learned from magazine makers, whether they are on issue one or 100.
Before my bum had even hit the seat I had met two Scots, one of whom, Hannah, had won her ticket to the conference when she entered a raffle at PPA Scotland's MagFest in Edinburgh!
The day began with magCulture creator and man behind the conference, Jeremy Leslie, announcing that he was tired of the terms 'independent' and 'mainstream', mainly because many of those so-called indie magazines are now selling in quantities that would shame the mainstreams. "Better", he said, "to refer to them as 'large' and 'small'". On that note, he handed over to Liv Siddall, host for the event, wearing a splendid Viz T-shirt. Here are some highlights of the day.
MACGUFFIN
First up was Kirsten Algera from Netherlands-based 'small' magazine MacGuffin. On its third issue, the publication takes an everyday object and explores the stories behind the mundane. Beds, windows and rope have all featured, and Kirsten lives by the mantra "If you don't have a budget, at least have a point of view". This quote, borrowed from society magazine editor Tina Brown, set the tone for the rest of the day, and couldn't be truer in these times of austerity.
ZEIT MAGAZIN
Christoph Amend was interesting, coming from big-budget German weekly newspaper supplement ZEIT magazin, where it seems his very reason for being is to challenge himself and his team. Not content with producing a clever 'double' cover for the publication for more than ten years, the 40th anniversary issue had a split run of 40 different covers.
Regional issues followed, then a men's edition and finally the best bits of the magazine are now translated into English for an international issue. What next, we have to wonder?
EMPIRE
Editor Terri White has been in post at film magazine Empire for a year, but has already been at the forefront of changing the very way it does business. Who would have thought that when the magazine launched 27 years ago, that it would now be covering TV – but with directors like Ridley Scott working across both mediums, and technology allowing consumers to watch anything, anywhere, the magazine needed to change.
She revealed an exciting new breakthrough for the Fantastic Beasts themed edition of the magazine (out that day with only 5,000 copies available), where they had collaborated with Warner Brothers to bring readers an exclusive video clip on the front of a newspaper style cover much like you would see in a Harry Potter film. As far as she knew, this had never been done before, and it was an exciting moment.
REAL REVIEW
Architect, editor and founder of Real Review magazine, Jack Self has created a lovely looking publication, which explores 'what it means to live today'. An unusual size, and endorse folded vertically, it is very different looking from other titles available. The folding allows for clever layout design, but as a designer myself, I feel you could become a slave to the format. I do like it, but with only one issue out, so far, it will be interesting to see how it develops. I remember a special issue of ID like that some years ago…
THE FACE
Paul Gorman has just completed a book on the history of the ground-breaking style bible The Face. So, who better to share some anecdotal evidence with us magazine lovers. Many of the people in the room wouldn't have been born during its heyday, but I actually worked on an issue when art director Phil Bicker left suddenly, and there was no-one to design the June 1991 edition. I was happy to help.
Paul talked about how journalist and founder Nick Logan was able to use his experience from music magazines such as NME and Smash Hits to create something special in the Face, which launched in 1980, but finally closed in 2004. At the forefront of the various music trends, it also looked good, breaking new ground in typographic and layout design.
Early editions of The Face were available during the day for attendees to view.
THE HAPPY READER
I was intrigued to hear from The Happy Reader's editor-in-chief Seb Emina. This is a combined effort from literary giants Penguin and the publishers of Fantastic Man and the Gentlewoman. So, Seb feels like the magazine is both large and small (alluding to Jeremy's earlier remarks).
Aimed at both voracious and aspiring readers, the magazine is split into two halves. An interview with a bookish celebrity in the front section, and features derived from the 'book of the season' in the rear. Seb revealed that they are effectively "fracking classic literature for feature ideas". The magazine is clearly popular, as all back issues are completely sold out. I've pre-ordered the next one.
THE NEW YORK TIMES MAGAZINE
The day ended with a superb insight into the working life of Gail Bichler, design director of The New York Times Magazine. With 3.2m readers, this could be classified as one of the larger publications, and with a team of seven designers, the quality is phenomenal – week after week. Given the time of year, Gail showed us some Clinton covers she had been involved in over her 12 years at the magazine, and then some Trump ones. It was nice to see traditional methods being used on covers: Trump's illustrated face was printed on a real helium balloon and then the balloon photographed; Clinton made into a toy soldier and then photographed.
A truly radical design for the magazine was the vertical High Life New York issue – living above 800 feet. Early on (three months before publication) it was decided to change the orientation of the magazine and print everything sideways. This allowed the mainly vertical images of skyscrapers much more room, and even the typeface was changed and tweaked to give the impression of height. The advertisers were given the option to update their copy to take full advantage of the extra space, and many chose to do this – to great effect.
I have been working in the magazine industry pretty much all my life, and I never fail to be impressed by the amount I learn from coming to a day like this. Never mind the world-class speakers sharing their stories with us – factor in the shop and the like-minded audience – and you have an event that will stay with you for a long time.
Pictured above: Christopher Amend, editor-in-chief of Zeit magazin. Photo credit: Owen Richards