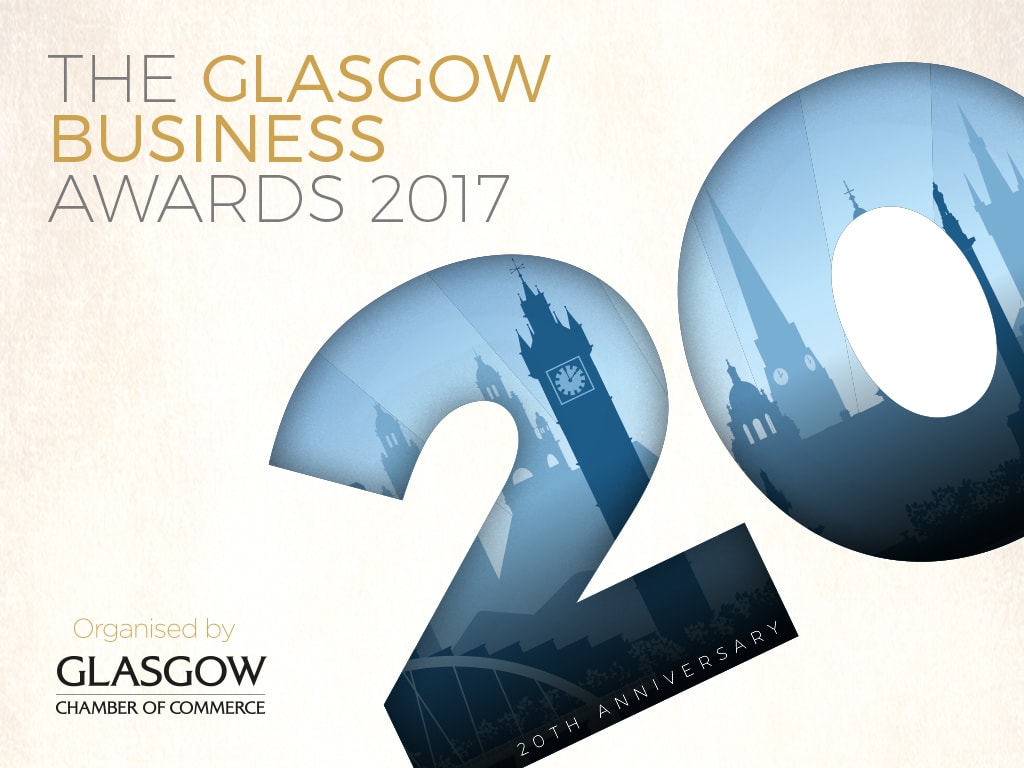 Awards rebrand looks the Business
Connect is delighted to have led the rebrand of The Glasgow Business Awards 2017, as the annual Glasgow Chamber of Commerce event celebrates its 20th anniversary.
We designed and supplied striking new campaign artwork for the prestigious event, which honours the best businesses in Glasgow and the surrounding area.
To celebrate the city's amazing talent – and the awards' 20th anniversary – our new banners, tickets and programme all feature powerful images of Glasgow's iconic skyline.
Anne Marie Hughes, Glasgow Chamber's Head of Communications and Glasgow Business Awards Project Manager, said: "We are delighted with the new Glasgow Business Awards branding which Connect have designed for this special anniversary year.
"It is modern, fresh and unique and the colours used are very much in keeping with the Chamber's new branding which we are rolling out across all Chamber marketing material including our bi-monthly publication Glasgow Business, also produced for us by Connect."
Connect Managing Director Alan Ramsay said: "Our talented design team have done both the awards and Glasgow itself proud with this exciting rebrand.
"We worked closely with the Chamber to ensure the new concept reflected the dynamic spirit of both the awards and the city itself.
"It's another great example of our expanding range of services, as we continue our evolution into a full-service creative agency."
The Glasgow Business Awards 2017 will celebrate with a glittering awards ceremony and dinner on Thursday 5 October 2017 at the Hilton Glasgow, with the winner of each category presented with a handcrafted trophy. Connect will sponsor The Glasgow Business Award for Excellence in Communications for the fifth year running.
To enter the GBAs, or for further sponsorship opportunities, contact Anne Marie Hughes or visit glasgowchamberofcommerce.com
Contact
Email Roisin McGroarty or call 0141 560 3024.