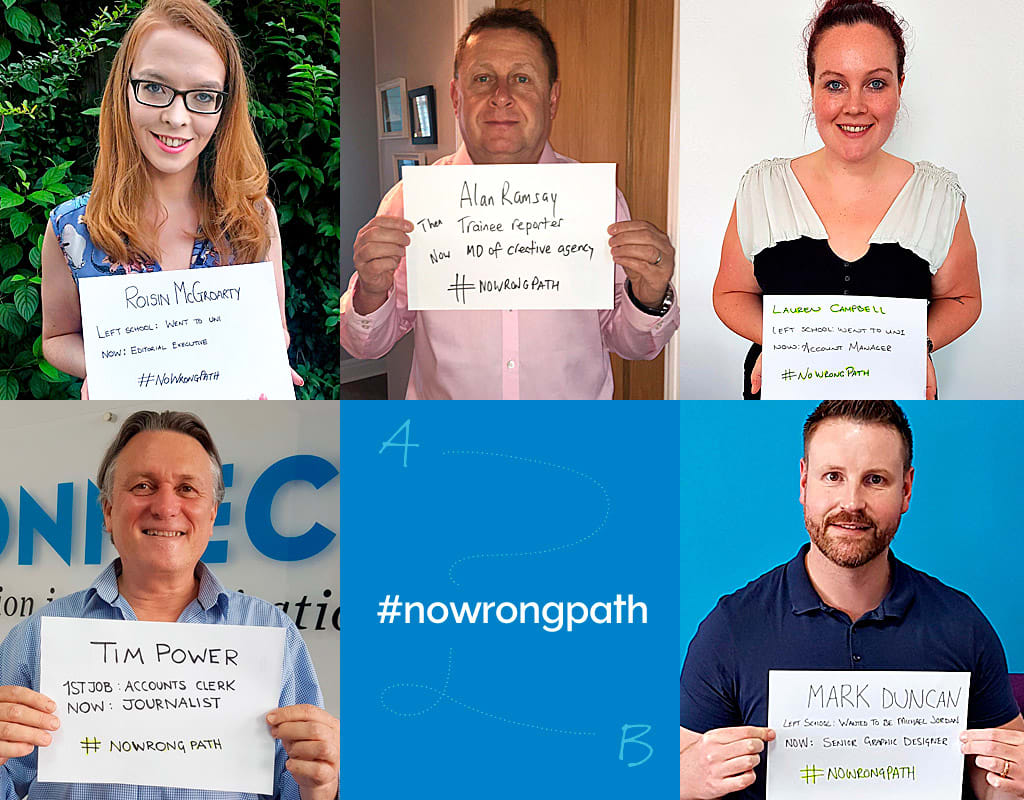 Connect staff back no wrong path campaign
Connect this week joined in the national #nowrongpath campaign to help reassure youngsters who may be disappointed with their exam grades.
Held on 8 August to coincide with the 2017 Scottish exam results day, the campaign aimed to show that many people in interesting jobs may not have taken a straight, obvious or traditional path to get there.
The campaign – which ran across Twitter, Instagram, Facebook and LinkedIn – was led by Developing the Young Workforce (DYW) Glasgow, a Glasgow Chamber of Commerce initiative.
Participants posted a photo of themselves holding a sign saying what they did when they left school and what they're doing now, with the hashtag #nowrongpath. Connect staff were among the thousands of people who took part, including celebrities and industry leaders.
Anne Marie Hughes, Glasgow Chamber of Commerce's Head of Communications, said: "We were trying to convey a message to young people that there are a variety of ways to get to a variety of jobs – in essence, there is #nowrongpath.
"We therefore created an image-based social media campaign to engage with a wide range of people and encourage them to share their first step and their current destination."
Connect Managing Director Alan Ramsay said: "We were delighted to support the #nowrongpath campaign.
"We are always happy to support any initiative that helps nurture career paths. For example, we have close partnerships with colleges and universities and we provide work experience and internships to those who want a career in media.
"As our own employees proved this week supporting the #nowrongpath campaign, the route to success in any industry can start anywhere."