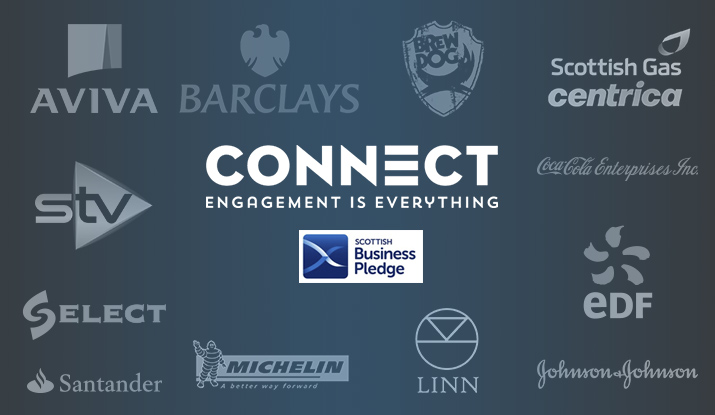 We've taken the pledge
We're proud to announce that Connect is one of 416 companies that has signed up to the Scottish Business Pledge.
The pledge is a values-led partnership between the Scottish Government and business, and is a shared ambition of boosting productivity, competitiveness, sustainable employment, and workforce engagement and development.
It is built on:
A commitment from the Scottish Government, and its partners, to support sustainable business growth in Scotland.
A voluntary code of business practice that guides and boosts the future development of our company.
A mutual pledge to ensure that prosperity, innovation, fairness and opportunity develop hand-in-hand in Scotland.
There are nine commitments within the Scottish Business Pledge. To become a member, it's mandatory to meet the living wage requirements and two more of the nine. However, we met all nine from the outset.
Company owner and chairman David Cameron said: "While we have clients all over the UK and the world, our business is based in Scotland so it's ethical and vital that we met all of the requirements of the Scottish Business Pledge.
"I am particularly proud of our work in supporting workforce development and investing in youth, as we do a lot of work with universities and schools.
"We've also demonstrated innovation over our 20-year history but none more so than in this year as we evolved into a full-service creative agency."
We launched our new proposition – Engagement is everything – earlier this year following a wide-reaching market and client survey in late 2016.
We join global giants such as Barclays, Coca-Cola, EDF, KPMG and Santander on the list, along with well-known Scottish-based companies including Edinburgh Airport, Linn, ScotRail and STV, and universities including Edinburgh, Edinburgh Napier, Glasgow and Glasgow Caledonian.