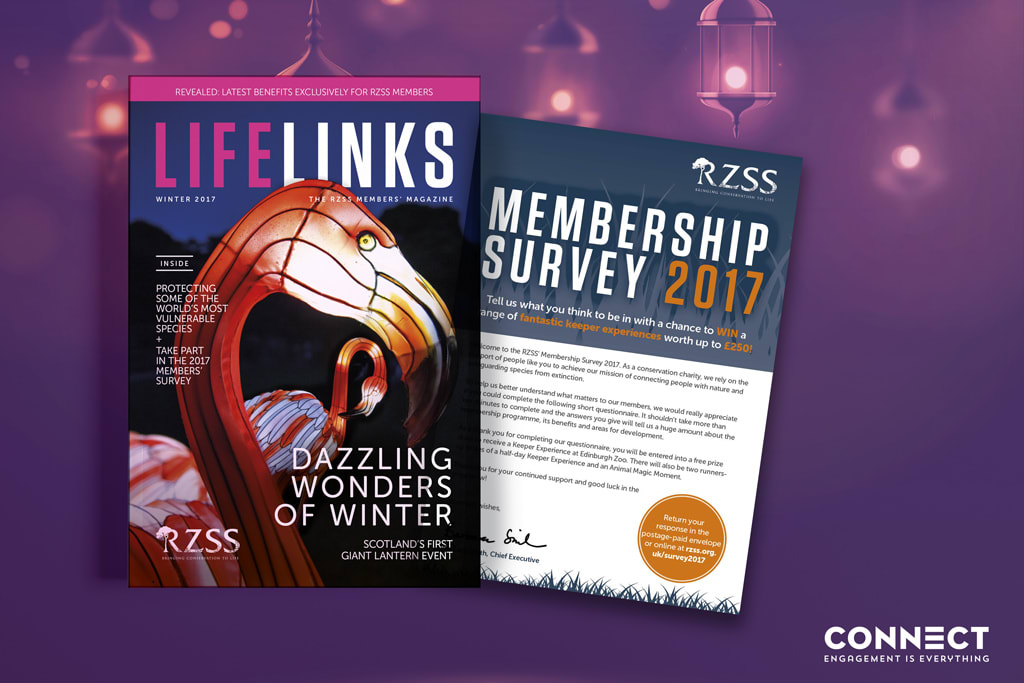 Survey helps RZSS engage with its members
Connect has been helping the Royal Zoological Society of Scotland (RZSS) engage closely with its members by producing a second invaluable reader survey.
The charity relies on member support to continue its vital conservation work – and also recognises the importance of adapting its communication strategies to reflect those same members' needs and wants.
That's why they recently approached us to produce a four-page survey to be sent out with their members' magazine LifeLinks, following in the footsteps of a similar survey produced by Connect in 2015.
Survey top tips
Here are four key points that should always be considered when creating a survey:
Keep it short: Questionnaires should take no more than 10 minutes to complete
Watch the wording: Keep questions clear and direct – don't confuse your readers
Provide variety: Include a mix of tick boxes and space for written notes, but don't ask for large chunks of text
Offer an incentive: With the RZSS, all completed 2017 survey forms will be entered into a prize draw to win a Keeper Experience at Edinburgh Zoo.
Anna Wright, RZSS Adoption and Membership Manager, said: "Surveys are a fantastic way for us to get to grips with live data and to really connect with our member base.
"They allow us to collect and categorise important feedback from our members, which helps us shape the future of our membership programme, which in turn, provides invaluable support for our conservation parks and projects.
"We want to get to know our members, and to ensure they always have a wonderful experience when visiting either RZSS Edinburgh Zoo or the Highland Wildlife Park.
"Our surveys allow members to voice opinions which they might not otherwise say, which means we can really get to the heart of what real customer satisfaction should look like."
Connect has been publishing LifeLinks for more than four years. Published three times a year, it was shortlisted for the PPA Scotland Magazine Awards in 2016 and 2017.
RZSS's account manager for Connect, Roisin McGroarty, said: "Surveys provide a snapshot of attitudes, preferences and opinions of members. This valuable feedback enables organisations to establish a benchmark to compare results over time."
Daniel Lambie, Head of Development & Client Services, added: "A good reader survey is the perfect way to engage with your audience and keep up to date with their ever-changing needs.
"The survey structure and questions required will differ depending on the type of organisation and audience.
"But if you haven't asked your audience lately what interests them, are you not in greater danger of creating content that will leave them cold?"
To find out how we can help you engage with your audiences via a survey, call us on +44(0) 141 561 0300 or email us.