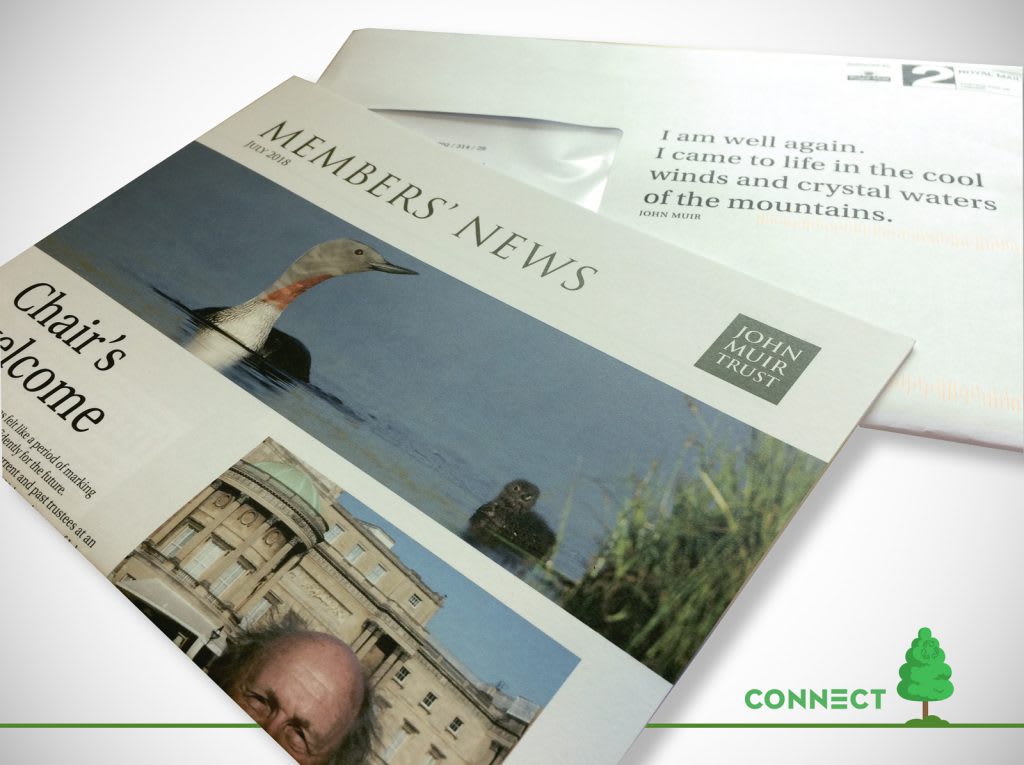 A greener and leaner way to engage with readers
Connect has been helping a key client enhance its celebrated environmental work by making its member magazine even greener and leaner.
We've been producing John Muir Trust's Members' News for some years, and as an organisation that strives to protect the environment, the eight-page A4 printed newsletter has always been produced on 100 per cent recycled paper stock. In addition, it's posted in a C4 paper envelope, which attracts a large letter rate from the Royal Mail.
We had an idea to reduce the weight of the paper stock, which would allow us to fold the newsletter in half, enabling us to insert it into a smaller C5 envelope. This would reduce the carbon footprint of the publication and bring the postage costs down, saving the charity money on its essential communications with members.
Our printer did tests on the lighter stock and folded the newsletter so that the John Muir Trust could make an informed decision. The Trust used its membership research panel – several hundred members who participate in regular research – to run a focus group and a survey, to ensure that members would be happy, as folding the newsletter would affect its appearance.
However, the focus group was resolutely behind saving money, and backed the summer newsletter being printed and delivered this way.
Connect Account Manager Neil Braidwood said: "We are committed to helping the John Muir Trust save on costs, and as the result of discussions over how the newsletter could be delivered, this was an easy solution."
Head of Communications and Membership at the John Muir Trust Kevin Lelland said: "Our members want to be kept informed about the Trust's work in an environmentally friendly and low-cost way. Connect keep considering the options available to us as technologies and papers change to allow us to do this."
Find out more about the Trust's work at www.johnmuirtrust.org