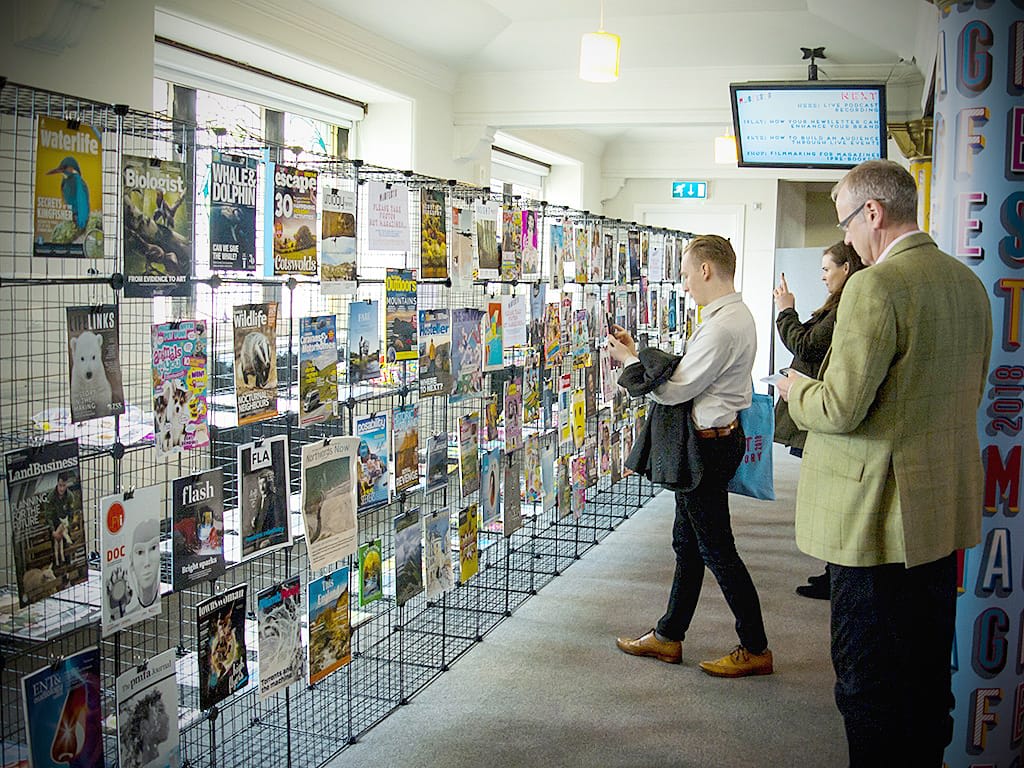 Magfest 2018
Seven of the Connect team #gotengaged with the annual PPA Scotland Magfest event in Edinburgh. Our Creative and Publishing Manager Neil Braidwood has written a blog in which he reflects on this year's event being the best yet…
It was a delight to be part of the seven-strong Connect team at this year's Magfest. I've been to every Magfest. Why? Because I'm a magazine junkie – I want to know everything about them, how other people make them, and what makes them work. Every year the bar gets higher. The range of speakers gets better and more diverse every year so it was fitting that this year's theme was The Ideas Factory. Of course, magazines are at the core of an event called Magfest! However, in the changing publishing landscape, we're in it was encouraging to hear from speakers beyond the traditional boundaries of paper and print.
Opening the event was Paul McNamee, chair of PPA Scotland. We were promised plenty of ideas over the day, from a variety of speakers – not all traditional magazine types either. Facing a 200-strong audience of seasoned professionals, fresh-faced students, and everyone in between – Paul introduced Mike Soutar – who started his career in magazines at DC Thomson. He was certainly fresh faced then, as he revealed in his presentation. He was a stand-in model for the many photo love stories that Jackie used to publish in the 70s. A lot of water has passed under the bridge since then, with Mike having helped in the success of the many 'lads' mags' of the 1990s. With unlimited budgets back then, it was surprising to find that when he launched Shortlist magazine in 2007 he realised that you can be more creative with a small budget because it makes you work harder to get a good result. "Too much money," he said, can make you "lazy and complacent."
Joanna Geary, director of curation at Twitter, had flown in from New York to tell us how her team of journalists have an important part to play in what tweets we see in our timelines. She had cut her journalistic teeth in regional newspapers, swiftly moving to the heavyweights such as The Guardian and The Times. Now heading up a team of 70 journalists, based all over the world, they "surface the best of what is happening."
Workshops followed a coffee break, with some of our team choosing 'Filmmaking for Magazines' – the idea being that everyone would work on a live project using the phone in their pocket. I met Jim Killgore of MDDUS, one of our clients, at the coffee break, and here's his Magfest movie.
I was interested to see the Media Voices team create their first ever live podcast. They all have very broadcastable voices, and with the theme of their discussion based around 'What's the Future for Free', they spoke to Mike Soutar, and Mark Frith, Editor of the Radio Times, to create a lively debate on how to monetise 'free' products. In fact, Frith revealed that the Radio Times website had been given exclusive rights to screen a Sky TV episode in advance of it even being shown on Sky – and they had been paid to screen it. This would probably have been unthinkable even five years ago – but it shows how the landscape has changed. You can listen to the podcast here.
Frith was on stage again after lunch, in conversation with PPA Chair Barry McIlheney. The two had known each other for years, having worked at the same magazines in the 90s – Smash Hits, Heat and Empire – so the conversation flowed easily. Mark is a multi-award winning journalist, but very modest. He voraciously read his granny's copies of Woman's Own magazine every week when he visited her, and this gave him a love of journalism from an early age. The careers adviser wasn't too impressed with this choice, but he persevered, and made his own luck to make it to editing what could be considered an 'institution' in the magazine world. Television, and the way we watch it may have changed, but Radio Times is still here, and playing to its strengths with Mark at the helm.
Marion Reilly, a Scottish designer working in London (I can relate to that), treated us to a masterclass in how to redesign a magazine. She is art director of HELLO! Fashion Monthly, and was hired to give the title a fresh new look. Often presentations like this show you a before and after, but Marion showed us the 'why' behind what she was doing. When undertaking a redesign project, you need to be able to backup your reasons for change, and Marion showed this in spades. By collecting together all the different typefaces (around 12) in one old issue, she was confident that she would prevail when she suggested paring the typefaces down to just four elegant typefaces. The previous incarnation of the magazine was cluttered, boxy and masculine, while Marion's revamp, was airy, light and elegant. Textbook stuff.
What excited me more was that Marion has over 20 years' worth of tearsheets (inspiring pages torn from magazines over the years). So do I! And I've never met anyone else who does this.
Another break for workshops – or in my case, a session with four indie mags, and their creators. We were given 20 precious minutes with: Grace Harrison, founder of Foul Play, a title about true crime; Sophie Kyle, who helped launch The Skinny, one of Scotland's foremost free culture titles; Ben Mervis, creator of Fare, a sideways look at cuisine from a different city each issue; and Dan Sandison, co-founder of Mundial, a football indie that has grabbed the attention of big names like Nike and Adidas.
This was an insightful glimpse into the ethos behind each title, the money needed to get them off the ground (and keep it going), and the audiences that buy the magazines. In the case of Mundial, this is close to 10,000, while Foul Play is in the high hundreds. Jeremy Leslie, who heads up the popular magazine blog Magculture was there to hold everything together, and he also had a pop-up shop where you could buy these and other indie magazines (I spent a lot of money).
The closing act was Mark Millar, creator of legendary comic books including Kick-Ass, Kingsman and Wanted. He recently sold his company Millarworld to Netflix for an undisclosed sum, so you would think this comic book king wouldn't need to work again. Nothing could be further from the truth.
Still fiercely proud of his working-class roots, Millar still lives in Coatbridge where he grew up. "It keeps me grounded". He also gives back plenty of that money to the estate where he lived and the school he attended.
In conversation with Paul McNamee, the strength of Millar's self-belief came through as he spoke. He was writing comic strips at the age of 13 and sending them to DC Comics in New York. He even phoned them one day to ask why he hadn't heard from them and what they thought of his work. He got a six-page rejection letter. Another one to confound the careers adviser, he later met her after finding success. She stuck to her guns though, saying that telling him "you can't be a writer", all those years ago was her way of getting him a 'proper' job.
Obviously, he ignored her, and continued writing stories and creating characters, realising that he "had to be rubbish for a while until I became quite good".
Millar was truly inspiring, and his stories had the audience in fits of laughter. All too soon though, Millar's time was up and Barry McIlheney was back on stage rounding up the day.
And what a day it was! From beginning to end, we were treated to world-class speakers, a varied choice of workshops and our notepads (or iPads) were bursting with ideas. Those inspirational ideas could form the basis of a new magazine – or maybe just a new way of producing an existing one. See below for some of the ideas our team took away from the event.
For more on Magfest 18, follow @MagazineFest and the hashtag #magfest18 for a round-up of the day. You can also sign up to the Magfest mailing list to find out about Magfest 2019.
---
What our team took from the day
Neil Braidwood, Creative and Publishing Manager
One of the key things that stuck with me from Mike Soutar's presentation was: "Challenge your orthodoxies." These are the things that you do on a daily basis in your job, but if you don't question them, you can end up getting into a rut, or worse, lose money. They can be simple things, like changing paper stock or shopping around for a better print price.
James Cargill, Head of Creative & Design
The filmmaking workshop was inspirational as we got so much out of it. In a short space of time, we managed to make a mini-movie about Magfest on our iPhones. I'm looking forward to putting that into practice to support some of our magazines.
Mick Reilly, Designer
For me, the highlight was seeing how Marion Reilly approached the redesign of HELLO! Fashion Monthly. Her use of typefaces was professional but also playful at times. I learned a lot.
Wendy Fenemore, Head of Operations
When working on a new project, Mike Soutar's company Shortlist Media have two teams working separately on the same idea. Then they meet – steal each other's ideas and develop them in different ways. It's an interesting way to get the best out of each team and get the best solution.
Roisin McGroarty, Account Manager
The magazine wall curated by Eric Campbell and Connect's Neil Braidwood was a revelation. There are so many printed publications produced right here in Scotland, and this was just a few of them. Connect, of course, had around 20 on display.
David Hughes, Business Development Manager
I was interested to hear that the football magazine Mundial serves as a shop window for the creative team behind it. Although the publication makes money on its own, the team have clinched major creative projects from big global sports brands.
Elliot Whitehead, Account Manager/commercial
At the e-newsletter workshop, I learned it's better to have a smaller newsletter distribution list that has a high open rate, rather than a large list with fewer opens – an engaged audience is far more attractive to advertisers.