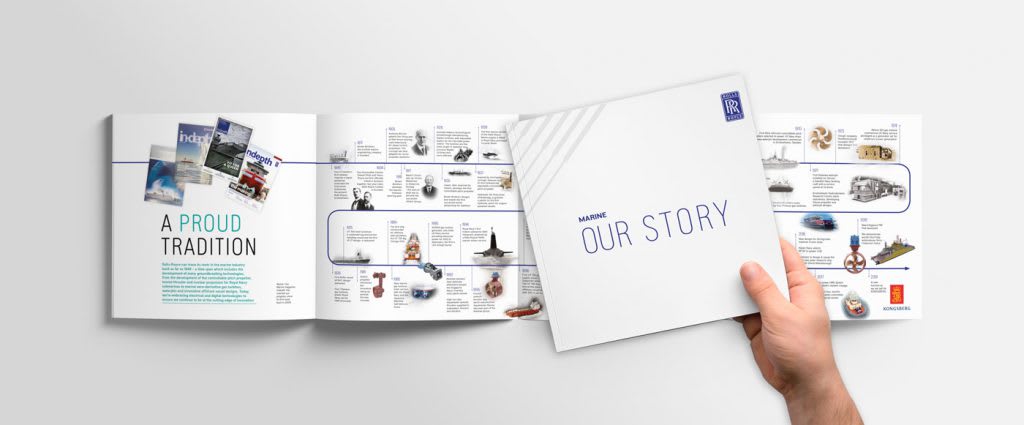 We deliver the Rolls-Royce of handover books
Connect has been proud to play a key global communications role as part of the decision by Rolls-Royce to sell its Commercial Marine business.
The division was handed over to Norwegian company KONGSBERG on April 1 – and in the six months leading up to the change, Connect helped keep staff informed every step of the way.
We designed and produced a weekly digital update in English, Norwegian and Finnish to keep the division's thousands of global employees in the loop. Adapting to events as they happened, it updated them with every practical detail of the giant acquisition.
The culmination of this ongoing work was the design and production of a lavish 72-page celebration book, which charted the company's 20 years of highlights and innovations.
Called Our Story, the volume was produced as a thank-you to staff, and was successfully distributed to more than 150 global sites, from Canada and the USA to Korea and Australia.
Craig Taylor, Head of Communications – Marine, said: "The support and quality of work that Connect provided throughout an extremely busy time was nothing short of tremendous.
"Employee engagement is crucial when you're going through a significant change like this, and Connect's agility and commitment to producing truly engaging materials really set this communications project apart from previous mergers and acquisitions.
"The celebration book was a beautiful piece of design work that was extremely well received – in fact one colleague described it as 'the Rolls-Royce of books', which was a suitably fitting tribute."
Connect Managing Director Alan Ramsay added: "Connect has enjoyed a close working partnership with Rolls-Royce Marine for more than ten years, during which we've produced a wide range of engagement tools across print and digital platforms.
"We were happy to help smooth the transition to KONGSBERG and also provide a fitting tribute with the celebration book, which demonstrated both our excellent design prowess and our ability to deliver effective global distribution and fulfilment."