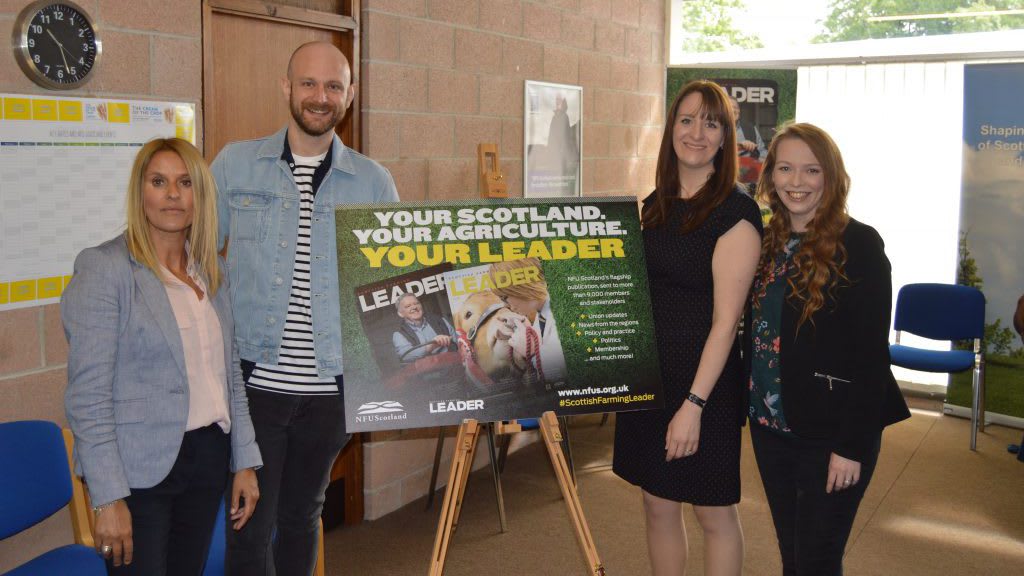 Visitors take stock of new magazine at show
When you've redesigned a magazine for the agricultural industry or farmers and crofters and want feedback you go straight to the horse's mouth – or, in the case of the Scottish Farming Leader, you attend the Royal Highland Show, Scotland's premier agricultural event that attracted a record 195,400 visitors in June.
 The Connect team behind the relaunch of NFU Scotland's Scottish Farming Leader joined the Editor Ruth McClean at a special drop-in event at the NFU Scotland stand to meet with the magazine's readers and advertisers to discuss the publication and gauge reactions to the new design.
And they were delighted with the feedback with comments that included "the new magazine looks more professional", "it looks impressive" and "the flow and layout is much better".
Connect was awarded the publishing contract in April 2019 and worked with Ruth to take the 68-page magazine back to its foundations and redesign from the ground up to best meet the needs of NFU Scotland and its 9,000 readership which includes farmers, businesses, politicians and other stakeholders from across the agricultural community in Scotland.
In addition to developing a fresher, more modern feel through the redesign, Connect has also reduced costs, shortened the Scottish-based production process and increased advertising revenues as well as attracting new advertisers.
The magazine provides the latest Union news, industry information and regional activity alongside specialist features for NFU Scotland's membership, and also provides a platform for trusted advertisers to promote their business to this unique and engaging audience.
The Connect team who attended the Royal Highland Show drop-in event included Chairman David Cameron, Managing Editor Roisin McGroarty, Designer Ryan Swinney, Commercial Manager Jane Deane and Advertising Sales Manager Shona Smith.
Image: From left: Advertising Sales Manager Shona Smith, Designer Ryan Swinney, Editor Ruth McClean and Managing Editor Roisin McGroarty at the Royal Highland Show