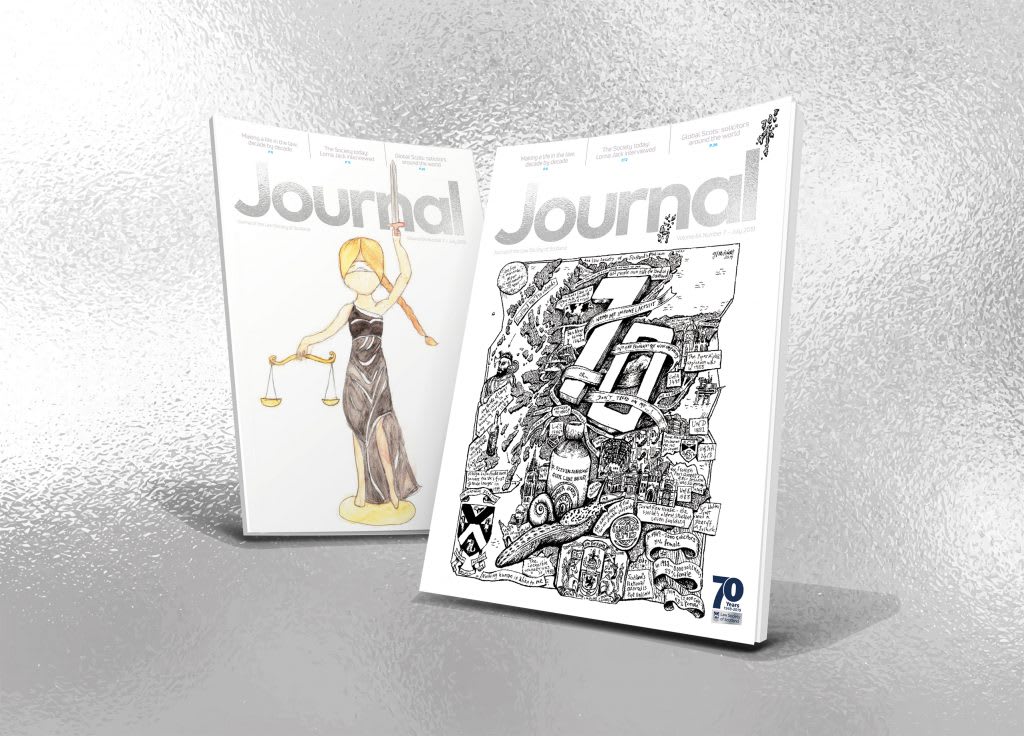 The Journal shortlisted for Best Association Magazine award
The Journal, the monthly magazine we produce for the Law Society of Scotland, has been shortlisted as a finalist in the Association Excellence Awards 2019.
Founded in 2014, these awards recognise and reward the achievements of trade bodies, professional membership organisations and associations. The winners will be revealed at an awards ceremony in London in October.
The Journal has been shortlisted in the Best Association Magazine (circulation 10,000 – 32,000) category. The Society has also been named a finalist in four other categories.
The news comes during the platinum anniversary year of the Law Society of Scotland, which was celebrated with a competition for a special dual cover for the July issue of the Journal. Helena Xu, a P5 pupil at Garnetbank Primary School, Glasgow, was excited to hear she had won the school pupils' prize with her Justice figure. The Journal readers' category was won by Graham Mitchell, an employment partner at Clyde & Co, Glasgow.
Nine out of 10 readers regard their Journal as a good quality, trusted magazine, independent research for the Law Society of Scotland recently revealed. The top rating was among the findings of the annual members' survey for 2018, carried out for the Society by Mark Diffley Consultancy & Research, along with Survation.
Edited independently of the Society by Peter Nicholson, a qualified solicitor, the Journal was last year given a completely new design while continuing to tackle professional and legal developments affecting the more than 13,000 solicitors, trainee solicitors and accredited paralegals to whom it is sent every month. The magazine aims to reflect the Society's mission to be a world-class professional body, covering legal developments and hot issues affecting the profession along with the work carried out by the Society for its members and in the public interest, while also providing a platform for members' views.
Peter Nicholson said he was "delighted" the Journal has been selected as a finalist in the Association Excellence Awards 2019.
He said: "We work very hard to produce a magazine that is relevant to all members of the very diverse Scottish solicitors' profession, and it is as pleasing to be recognised with this latest shortlisting as it is to have our great readership satisfaction ratings."